Anik & Claude's Story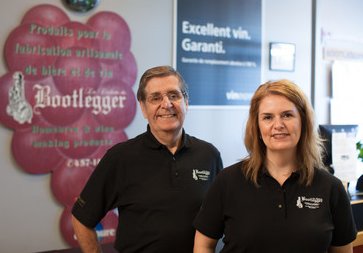 Co-owner Claude's love for making wine started back in 1978 when he fermented his first batch of wine.  A Montrealer with a joie de vivre and appreciation for the finer things moved overseas with his family and found himself in a place without access to any wine. Being a resourceful father of two, Claude came up with a DIY wine. He started with a basic, yet palatable, wine-making recipe using grape juice and a baker's yeast!  His wine and recipe then made the rounds among other Canadians and expats in the area and became the benchmark.  When Claude retired from his first career, he teamed up with his daughter Anik to open La Cachette du Bootlegger. With their passion in wine and beer and a background in business and marketing, these two wine and beer experts have built a successful, long-standing business together.
With a certificate in advanced beer brewing in 1998 from Les Laboratoires Maska, Anik has given talks and courses in the community on wine and beer making. She gives beer making courses periodically at the shop (see the "Brewing Course" section on the on-line store) as well as for community groups, gives Beer Tasting Courses at microbreweries and Wine Components courses to different associations. Anik has also been active in the industry and has served on various committees including the Canadian Craft Winemakers Association's (CCWA) Quebec Council.
Anik, Claude and their experienced staff welcome all new and returning customers with their enthusiasm and friendly spirit in-store, online or by phone.
Cheers!