WHAT IS WINE?
Wine is the alcoholic beverage obtained from the fermentation of juice from grapes (must).
4 steps to wine making:
PRIMARY FERMENTATION – When the sugars that are present in the grape juice are converted by the yeast into alcohol and carbon dioxide. This stage lasts for about one week.
SECONDAY FERMENTATION – When the wine is transferred from a primary fermentation vessel (food grade bucket) into a secondary fermentation vessel (carboy) by syphoning or racking. This stage lasts for about two weeks.
STABILIZATION – When a few ingredients are added to the wine to stabilize and clear it. A vigorous stirring is also done at this stage to remove the CO2. Let the wine clear for at least two weeks.
BOTTLING – When the clear wine is siphoned into bottles which are then corked. Let the wine age for a few months and then enjoy!
Troubleshooting:
Encountering problems or uncertain about something when making wine from a kit?  We would be happy to assist you in our shop or for useful technical information on troubleshooting, click HERE for a link to a helpful article from Winemaker Magazine.

WINE KITS AND CONCENTRATES
At La Cachette du Bootlegger, the entire collection of Winexpert wine kits is offered.  Winexpert is the world's largest manufacturer of premium, award-winning winemaking products.  It is committed to sourcing high quality grape juice and concentrate.  They also have stringent quality control procedures at their state-of-the-art processing facilities and quality is guaranteed.
The collection includes: Private Reserve, Limited Edition (LE), Reserve, Classic, On The House, Après  and Island Mist
Private Reserve
Winexpert Private Reserve are ultra premium wine kits which are made with the finest quality varietal juice from around the world to produce wines that will satisfy the tastes of even the most discerning wine enthusiasts.  They are kits that contain 14 liters and produce 23 liters of wine.  The red wine varieties (except for the Pinot Noir) come with grape skins.  For a complete description of the varieties, please click HERE.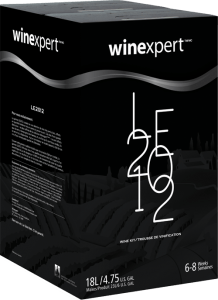 Limited Edition (LE)
Winexpert LE (Limited Edition) features a strictly limited number of outstanding wines released on an annual basis.  Announced each Fall, specific wines are offered each month from December through April.  These unique and intriguing wines are available only during their month of release so they must be pre-ordered during the months of October to November to ensure you'll receive these sought-after wines.
Reserve
Winexpert Reserve features fine grape varietals and blends, showcasing distinct styles of the world's most prominent winemaking regions.  These 10 litre kits produce 23 litres of full-bodied wines with superior flavour, aromas and complexity.  For a complete description of the varieties, please click HERE.
Classic
Experience the satisfaction of crafting high quality and versatile wines from the world's best known countries with Winexpert Classic wine kits. These wines are perfect if you enjoy versatile wines which don't require extended aging but still offer distinct flavours from some of the great wine regions in the world.  They are 8 liter kits and produce 23 liters of wine.  For a complete description, please click HERE.
On The House
Quick and easy to produce, wines made from these On The House kits are supple and have a lively freshness that is best enjoyed young. Delightfully satisfying results in only four weeks!  They are 6 litre kits and produce 23 liters of wine.  For a complete description, please click HERE.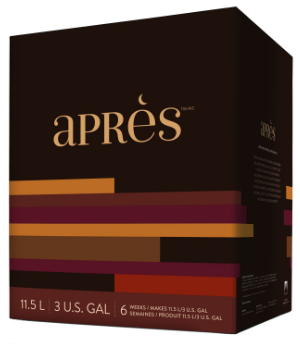 Après
Remarkable specialty wines. Dessert wines (Port style) and Ice Wines can all be made from the Après range of award winning wines. They are 12 liter kits to make 12 liters; approximately 30 – 375ml bottles or 15 – 750 ml bottles.
Island Mist
Winexpert Island Mist is a delicious alternative to everyday wines and wine coolers. Combining the crisp freshness of distinctive varietal wines with full fruit flavours, this unique kit makes a fun, refreshing wine-based beverage to enjoy anytime.  They are 6 liter kits to produce 23 liters of wine.  For a complete description, please click HERE.